3 Easy & Quick Hacks On How To Clean Artificial Jewellery At Home!
3 Easy & Quick Hacks On How To Clean Artificial Jewellery At Home!
There is an adage that "jewellery is women's best friend". It adds a never-ending charm to her overall demeanour and makes her appear more beautiful. It's been honestly said, your favourite jewellery need not be diamond-studded or a gold one. It can be the one that immediately catches your attention the first time you see it that leaves you mesmerized.
Yes, artificial jewellery has been a long-time companion for most Indian women as it is not only lighter on our pockets but is both easy and safer to use every day. But the most common issue with it – how to clean artificial jewellery at home without much of a hassle?
Let's dig deep and find out how to keep them clean, neat & shining, just like that real gold or diamond!
How To Clean Artificial Jewellery At Home?
Even these imitation jewellery pieces demand our attention and diligence to keep them damage-free and polished. But how to clean artificial jewellery at home? Does it sound very tedious job for you? Worry not, as it is way easier than it seems. Just read along and you'd know why!
Step 1 – Pick The Right Cleaning Agent
To shine up your imitation jewellery pieces, the first step is choosing the right cleaning agent. There are plenty of cleaning solutions available in the market and if you are willing to buy one, make sure it is free of ammonia and alcohol. These two chemicals are harmful to your delicate fashion jewellery and can cause permanent damage.
If not, you can switch to easy home solutions as listed below and clean your tarnished imitation jewellery with it.
This one is a good choice for knowing how to clean artificial jewellery at home as our good old lemon is one of the hot favourite choices to clean almost anything at home. Be it skincare, food or cleaning your imitation pieces of jewels, lemons, do it all bravely!
Its secret lies in the Citric Acid it contains that does all the deep cleaning while attracting the entire dust and grime just like a magnet. Thus, restoring the long-lost shine and lustre of your precious artificial jewellery.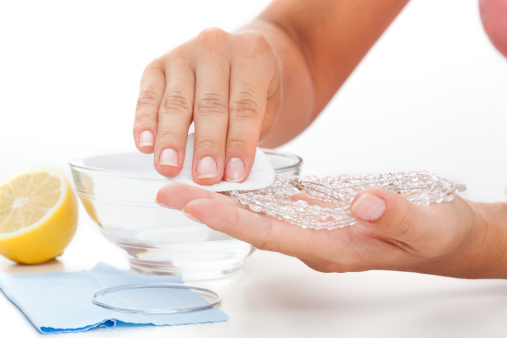 Let's know more cleaning agents on how to clean artificial jewellery at home. Here we go!
Mild Shampoo or Baby Shampoo
A mild shampoo like baby shampoos is very effective at cleaning artificial jewellery. Suppose you have some delicate and cheap jewelry cleaning to be done which does not have much metal in it, then baby shampoo seems to be an ideal option.
And how to clean imitation jewellery pieces with baby shampoo? It is simple, mix equal parts of it with warm water. Now, dip a soft toothbrush into it and gently scrub your costume jewellery with it. You might choose a toothpick or Q-tip for a nice clean for more complex and harder surfaces.
Now, rinse your favourite artificial jewelry pieces with cold water and soak them dry using a microfibre cloth. And if it contains some imitation gemstones and rhinestones, make sure it does not get too wet. Else the casings would get loosened up. This way you know how to clean artificial stone jewellery at home the best way!
Using white vinegar is the better option. You have to make an equal solution of water and white vinegar and soak your imitation jewellery in it. Dip a soft toothbrush in this solution and clean all the nooks and corners of your pieces. This seems to be little odd but a good method when finding out how to clean artificial jewellery at home.
Suppose you are looking to clean your pewter jewellery that is metal-based and susceptible to discolouration and darkening over time. For such delicate pieces of imitation jewellery, you first need to wash them in foamy soap water.
Now, pour hot water into a bucket along with a few drops of mild dish soap. Take a soft cloth, dip it in the bucket and gently clean your pewter jewelry. After a good wash, rinse in warm water and soak dry with a soft clean towel.
How To Clean Fake Gold Jewellery At Home?
In case you are looking at how to polish artificial gold jewellery at home, then follow these steps;
Toothpaste


Most fake gold jewels get tarnished and rusted if left unattended. So, all you need to do is grab an old toothbrush, put some of the toothpaste on it and gently scrub it all over your pieces. And rinse it off properly in cold water and tap it dry with a soft clean towel.
That is it, and you would know how to clean artificial gold jewellery at home with this.
How To Clean Brass Imitation Jewellery Easily At Home?
Brass imitation jewellery uses harder materials than others which means more cleaning and scrubbing. Use this solution to have some effective cleaning not only for making copper shine but for tarnished silver products too;
Use 1 teaspoon of salt along with 2 cups of white flour
With 1 cup of white vinegar, fresh lemon and baking soda
Mix salt, vinegar and white flour – stir up well and apply a good coat of it on your old imitation jewellery pieces using an old toothbrush. You need to make sure you clean all the crevices, nooks and corners and then let it dry until it flakes off. Clean it off using a towel. Next immediate step on how to clean artificial jewellery at home is as follows.
Cut a lemon in half and rub a half slice of it on baking soda. Now use this slice to clean up your artificial jewels. Make sure all the tarnishing and rust has been thoroughly removed. Rinse it off with hot water and pat dry to a soft clean towel. And ta-da, you have almost mastered the knowledge of how to clean artificial jewellery at home!
How To Clean Sterling Silver Pieces Of Jewellery?
For sterling silver, you have to forget what you earlier know about cleaning it. As of today, you would know a secret method to polish it better than before. Just get the following ingredients;
A baking tray with aluminium foil
Baking soda and water
Cover up your baking tray with a sheet of aluminium foil. Spread out your jewellery very evenly on it now. Sprinkle baking soda in a way that covers the piece entirely. Boil the water and slowly pour it into the tray containing the baking soda covered imitation jewellery. Now, flip the pieces and repeat the process until completely clean. Sounds easy? That's one of the tried and test know how to clean artificial jewellery at home!
Step 2 – Do Proper Scrubbing – Not Too Harsh Nor Too Gentle!
Cleaning either your costume jewellery or the imitation ones requires a very gentle scrub. It can be either a toothbrush with softer bristles or your own fingers covered up in gloves.
After scrubbing, run it through either warm or cold water as suitable and pat it dry using a soft and clean towel. Remember that using a new toothbrush and clean towels [even paper one works] not to transfer any grime or germ. One of the best ways is to keep a Q-tip handy for effective cleaning of your imitation jewellery.
Knowing how to clean artificial jewellery at home involves proper knowledge of which cleansing agent to be used on what type of pieces and how to clean it effectively. With right combination of both, you can shine on any of your imitation jewels.
Step 3 – Know How To Care For Your Cleaned & Polished Artificial Jewellery At Home!
Firstly, start it with store it in the right place. Use a soft cloth to cover up your artificial jewellery, or you can even store them in anti-tarnished bags. Also, be careful that you put on your imitation jewels only after the perfume or lotion you use on your body gets dried. Else it might act as an agent of rust or tarnishing really quick. Follow the above easy steps, and you will know how to clean imitation jewellery at home is as easy as it looks!
Also Read | How To Take Care Artificial Jewellery At Home
Pro Tip: You need to understand the different types of artificial jewellery you have. This would help separate them as each metal reacts differently to various cleaning agents.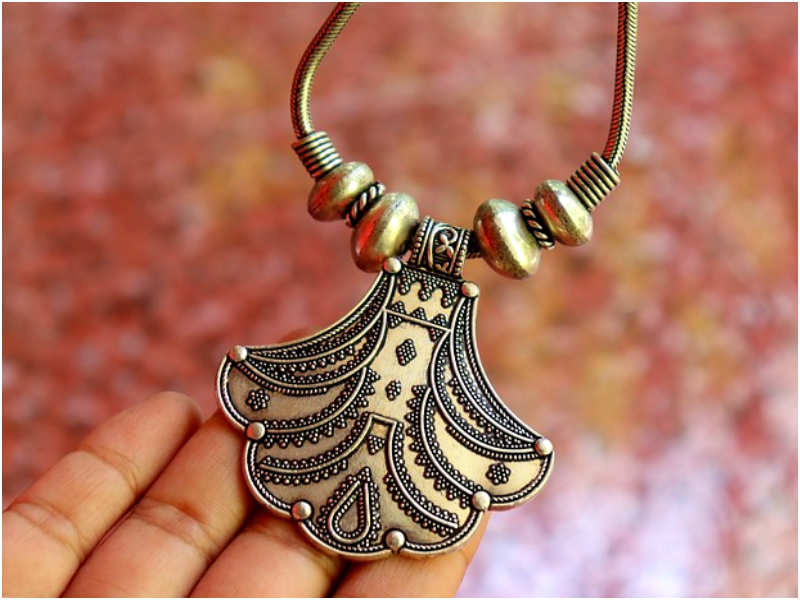 For example, consider them similar to your white and coloured clothes and how cautiously you wash them without mixing them. As just knowing how to clean artificial jewellery at home might not always be sufficient. You also need to know what metal that particular piece of jewellery is made up of.
You have to be careful that one piece should not tarnish another. Especially if the artificial jewellery you have is studded with some stones, there is a high chance of its adhesive loosening out while washing. With this pro tip too, you are now well aware of how to clean artificial jewellery at home easily and on your own!